Welcome to Eminent 2017!
Introducing my Eminent Person
The very first time I came across my eminent person was through a video shown at We Day.  The video documented a short clip of Malala Yousafzai, as she gave a powerful speech that delivered a message to everyone sitting in Rogers Arena that one morning.  She was a name that I had heard many times at my Me to We club at school and as a strong leader the world is beginning to notice.  Through my 3 years involved with the organization Malala herself was so connected with, I became fascinated with her journey, her perseverance through obstacles, and her story.  
 Cited from Google
Malala Yousafzai, born 1997, in Pakistan, did not have a welcomed birth as she was a female.  However, her father Ziauddin, an educator, was determined to allow the same educational rights that all boys in Pakistan had.  He assumed a leadership role in Malala's life from a young age.  
Her life drastically changed when the Taliban attacked Malala's hometown, Swat Village, in 2008.   The Taliban enforced strict rules, and when they banned – among many things – education for young girls, she could not go to school.  Instead, she became a blogger for the BBC news under the fake name Gul Makai, about living under the Taliban's threats to deny her education.  This was the start to reach her goal, a goal to give every young women in the world basic rights to education.  
In 2011, the Pakistani army weakened the Taliban's hold on Swat Village, and Malala was overjoyed to hear that she could attend school once again.  However, due to her leading prominence in the world, she faced yet another crisis when the Taliban targeted her in a school bus.  Malala was shot in the head, neck and shoulder and was in critical state in the hospital. Nevertheless, as if the prayers of thousands of people in Pakistan reached out to her, she miraculously survived the attack.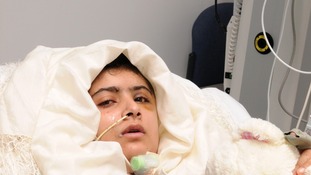 Today Malala is a symbol of hope; for many girls in countries all over the world who have yet to receive proper education, for many girls who are silenced, and for many girls who believe that our world can change.  Determined to campaign all around the world, Malala set up a Malala fund and continuously advocates for the rights and equality of women.  In 2014, she is announced the youngest winner of the Nobel Peace Prize and tours all over the world with the #girlpower, reminding young women that they are not alone.  She balances her life and school work very carefully and is recognized as a global leader as she deserves to be.  
All facts cited from Malala Fund Website
Through my eminent study, I get to learn social content such as:
What are issues concerning women's education that is rising up/ in effect today?

What event inspired Malala to act against the Talibans?

How do I portray this character in night of the notables (speeches/ learning centers)?
And I have to think of some general questions that pushes me to think beyond the box such as:
Who first stated that females are less superior than men?

When do we rebel against the wishes of others?

Why are laws and rules not universal throughout all countries?
---
Why did I choose Malala Yousafzai this year?
When my teacher first discussed picking an eminent person, he gave us factors that we should consider/should be careful of such as race, gender, lifestyle, goals, etc.  This is very relevant as issues such as racism and ethics are starting to become more and more prominent in our society.  Having a similar lifestyle and goals would be helpful as well, because it would allow  someone to connect more deeply with their eminent person.
Despite this, I chose an eminent person who is relatively different than I am.  Malala doesn't have the same race as me, and she grew up in a lifestyle that was quite different than what I had.  So what was my reason for choosing Malala Yousafzai?
Although race, lifestyle, and gender are clearly important aspects, I believe the most important thing when choosing a person is how much you can relate to the person.  Personally, I feel very passionate for the causes that Malal fights for; education for young women, equality in gender, and speaking out for those who are silenced. 
I want to challenge myself to relate to a eminent person that has similar and different characteristics that I have.  I think that it's important to discover stories from other cultures and to share them so they can continued to be told.  Analyzing from a perspective different than mine (since we ARE our eminent person this year) and trying to understand their motives are essential to widen our horizons in diversity. Malala Yousafzai

Jiwon Hwang

Female

Female

Born in Mingora, Pakistan (Swat Valley)

Born in Seoul, South Korea → BC, Canada

Underprivileged with education

(banned from going to school because of her gender)

Privileged with education

(been attending school since childhood)

Blogger

(real world issues about living conditions, personal life, etc.)

Blogger

(Homework, personal life,etc.)

Female Rights Activist

(for women's education)

Female Rights Activist

(for people with mental disabilities, girls and women in Kenya)

Supports Free the Mind organization

Supports Free the Mind organization

Nobel Peace Prize Winner

Not a Nobel Peace Prize winner

Shot with a gun

[Hopefully] will not be shot with a gun
Obstacles
Needless to say, there are a couple of major barriers between mine and Malala's story. First of all, Malala's life at Swat Valley was very underprivileged, and Malala as a girl, did not have the same rights and equality as a boy would have.  Although her father protected Malala's rights as much as he could, she was born and raised in a country that shamed women for going beyond her "tasks" as a wife and housekeeper.  This is not the case with my upbringing in Korea.  Although Korea was once a country that had the same prejudices against women as the country of Pakistan did, most of those ideas are now demolished.  But I can relate to this, as my grandparent's generation and even my parent's generation had women who struggled to go to school because of the superior dominance and rights only men were privileged to.  Personally, I have heard many stories from my grandmother, and how she had to finish all her house chores before running off to school to catch the last block of the day.  Through my grandmother, I can connect to Malala's wants for female education.
Another obstacle is the different experiences Malala and myself went through.  Obviously, I wasn't shot by a Taliban and would have absolutely no idea on how it felt.  We learned in english that experiences change a person's perspective and opinion, and since Malala had drastic experiences, I can not relate to her in that aspect.  However, I can think based on her shoes, and relate her experiences to mine by asking, "What would I have done? What would I think?".  Although I'm a strong believer in women's rights, I wouldn't feel motivated enough to fill her shoes if I had the opportunity to.  
---
I would like to watch the documentation of Malala's story entitled "He Named Me Malala" by director Davis Guggenheim.  This is a  documentary film based on Malala and her journey from her little hometown of Swat Valley to rising as an influential individual in our society today.  It gives great insights on her home life, adjustments in a new country, and includes powerful speeches.
The link to the trailer below:
As well as her personally written book:
   Cited from Google
Night of the Notables, I can't wait for you to arrive!